What Is Civil Engineering?
Civil Engineering is the broadest of the engineering fields. It deals with the creation and improvement of the community, the protection of the environment, providing facilities for living, industry and transportation, including large buildings, roads, bridges, canals, railroad lines, airports, water-supply systems, dams, irrigation, harbors, docks, aqueducts, tunnels, and other engineered constructions.
Specifically, in the Waxahachie, TX and Ellis County area, civil engineers offer the following types of civil engineering services:
Residential Land Development (single-family & multi-family land planning & subdivision design, lot layout planning, land development master planning, site utility plans, earthwork grading plans, and traffic circulation plans)
Commercial Land Development & Design (Apartments, Hotels, Restaurants, Shopping Centers, Convenience Stores, Banks, Industrial Parks, and Churches)
Sanitary Sewer System Layout & Design (Single family, multi-family & commercial)
Storm Sewer Systems Layout & Design (detention ponds, gutters, storm drains & piping, FEMA Letters of Map Amendment, and storm water flood studies)
Drinking Water System Planning & Design (wells, city water mains, fire prevention systems)
Transportation Engineering (traffic studies, transportation system plans, urban planning, corridor studies, feasibility studies, and highway engineering)
Roadway Design (horizontal curve design, superelevation design, route planning & design, vertical curve design, pavement design, curb layout & design, D.O.T. highway permits, road crossing permits, and road boring permits)
Pipeline Engineering (route planning, pipe sizing, corridor studies, feasibility studies, and easement and land acquisition)
Construction Engineering (project management, construction management, construction plan design, quantity estimation & takeoffs, contractor selection, construction oversight, construction surveying, and as-built drawings)
Environmental Engineering (Phase I Environmental Assessments, NPDES storm water permits, erosion & sediment control design plans, septic system design & approval, septic treatment system design, wetland delineation & surveying, Corps of Engineers permitting, and wetland mitigation plans)
Geotechnical Engineering (foundation design, retaining wall design, soil proctor compaction testing, standard penetration testing, nuclear density testing, and Atterberg limits)
Structural Engineering (retaining wall design, foundation design, slab design, building structural design & analysis, structural design plans, wall designs, roof designs, hurricane loading designs, and bridge design)
Mechanical Engineering (heating, ventilation, and air conditioning, HVAC design, plumbing design, steam plants, humidifying/dehumidifying, water treatment & filtration systems, vacuum systems design, natural gas piping system design, medical & veterinarian gas systems)
Electrical Engineering (Lighting design, building electrical design, fire alarm systems, generator system design & specification, security system design)
Expert Witness Consulting & Testimony (expert reports, deposition testimony, and courtroom testimony)
The civil engineer must have a working knowledge of all of the above items, depending on the specialty chosen. Even a specialist must be able to understand how all of the different types of engineering fit together on various project.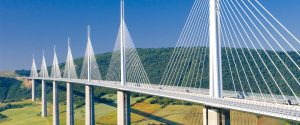 The built environment encompasses much of what defines modern civilization. Buildings and bridges are often the first constructions that come to mind, as they are the most conspicuous creations of structural engineering, one of civil engineering's major sub-disciplines. Roads, railroads, subway systems, and airports are designed by transportation engineers, another category of civil engineering. And then there are the less visible creations of civil engineers. Every time you open a water faucet, you expect water to come out, without thinking that civil engineers made it possible. New York City has one of the world's most impressive water supply systems, receiving billions of gallons of high-quality water from the Catskills over one hundred miles away. Similarly, not many people seem to worry about what happens to the water after it has served its purposes. The old civil engineering discipline of sanitary engineering has evolved into modern environmental engineering of such significance that most academic departments have changed their names to civil and environmental engineering.
These few examples illustrate that civil engineers do a lot more than design buildings and bridges. They can be found in the aerospace industry, designing jetliners and space stations; in the automotive industry, perfecting the load-carrying capacity of a chassis and improving the crashworthiness of bumpers and doors; and they can be found in the ship building industry, the power industry, and many other industries wherever constructed facilities are involved. And they plan and oversee the construction of these facilities as construction managers.
Call (469) 773-4878 today to speak to a Waxahachie/Ellis County Civil Engineer to discuss how we can help you with all of your Civil Engineering needs.